Anarkali suits are the epitome of grace and timeless beauty. It's a classic Indian ensemble that continues to captivate hearts with its majestic appeal. They are the best option for any occasion. Undoubtedly elegant and chic Anarkali suits enhance your feminine charm that also adds sophistication to your style.
Anarkali dresses are flowing floor length dresses that create a flattering silhouette for women of all body types. A timeless attire, these suits add dazzle when heavily embellished with resham and zari embroidery along with beads, pearls, mirror and abla work.
Making a comeback, the suits are trendy with designer innovations and variations in styles, colours, and fabrics. To help you choose trendy designer Anarkali suits, we have shortlisted a unique collection of Anarkali suits for you.
Vibrant Colours
Colours play a vital role in making you a graceful diva at the event that you are attending. From pinks, to bold red, to royal blue, to rich purple and vibrant yellow, the spectrum of vibrant hues in Anarkali suits allows you to make an eye-catching fashion statement. Make sure to wear a colour that vibes with the skin tone and is according to the occasion.
Role Of Colour Palette In Anarkali Suits – Using the perfect colour palette for an outfit is what sets you apart. From soft pastels that display femininity to bold colours that command attention, the right colour tone can enhance the beauty of the Anarkali outfit and make a true fashion statement. Colours carry a lot of importance because they can either make or break your look.
Classic Shades- Beating the timeline, Anarkali suits have come a far way. The classic shades like black, regal navy, graceful white and traditional red make your Anarkali suits a symbol of simplicity and tradition.
Contemporary pastels- Pastel colours bring in a very subtle and graceful look. A diverse range of pastel colours like lemon yellow, sage green, sky blue, lavender, mint green, peach, blush pink, bring a soft and romantic feel creating a harmonious blend of modernity and femininity in Anarkali designs.
Vibrant combinations and gradient shades- When it comes to weddings and festivities, vivid and rich colours with intricate designs and patterns are chosen. Vibrant combinations and gradients add a dynamic appeal to the Anarkali suits. Pairing contrasting colours or incorporating gradient shared in the outfits adds a striking visual impact These combinations exude your personality with grace.
Luxurious Fabrics
Designer Anarkali suits offer a wide range of fabric options that add to the richness of the outfit. The choice of the fabrics play an important role in elevating the elegance of the Anarkali suits. Fabrics play an important role in elevating the richness and elegance of the Anarkali suits.  From opulent silk, regal velvet to delicate chiffon and intricate brocade fabric enhances the overall drape of the outfit. Slimmer women can pick silk, jacquard, or brocade fabrics whereas curvy ladies can opt for crepes, chiffon, georgette, and net.
Silk- Silk Anarkali suits carry a distinct sheen and are perfect for special events to become the showstopper. Traditional silk Anarkali suits look rich and sophisticated. From weddings to festive occasions, a silk Anarkali is a perfect choice for those seeking a combination of traditional charm and refined elegance.
Georgette and chiffon- Anarkali suits in georgette and chiffon offer an ethereal and graceful appeal. Georgette provides a soft and delicate texture while chiffon adds an airy and sheer quality to the ensemble. These Light weight and flowy fabrics are perfect for a special occasion and evening events.
Velvet- Velvet Anarkali suits exude a sense of regal grandeur and opulence. The rich and plush texture of the fabric adds a luxurious touch to the ensemble making it perfect for festive and formal occasions. Velvet Anarkali suits are often adorned with intricate embellishments making them statement pieces that display beauty and elegance.
Intricate Embellishments
Heavily embroidered Anarkali salwar suits are a perfect pick for pre-wedding ceremonies. Intricate embellishments using a variety of materials such as sequins, thread, stones, pearls showcase fine craftsmanship and elevate the look of Anarkali suit to a work of art. The embellishments enhance the overall aesthetics and offer a mesmerising ensemble that stands out with its unique and intricate craftsmanship.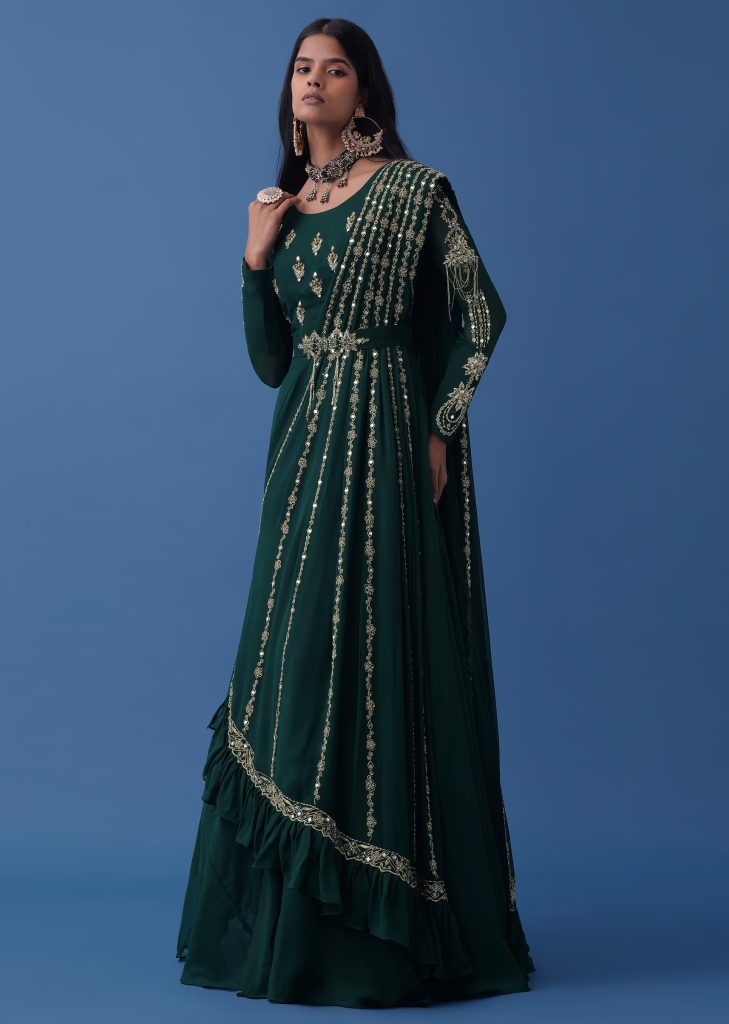 The Anarkali suits are embellished with different types of embroideries like thread, zari, zardozi. Pearls, mirror work, abla, sequins, stones create a captivating interplay of light and texture.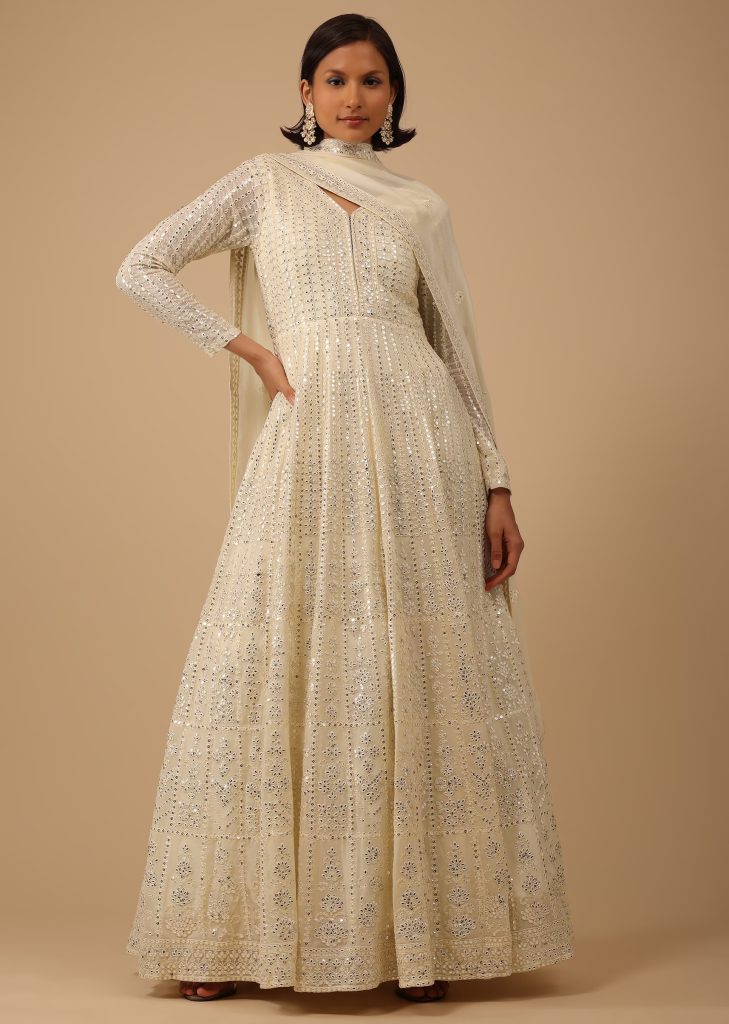 The embellishments and designs are inspired by traditional motifs and modern patterns. They offer a great combination to achieve a contemporary look that is traditional and modern.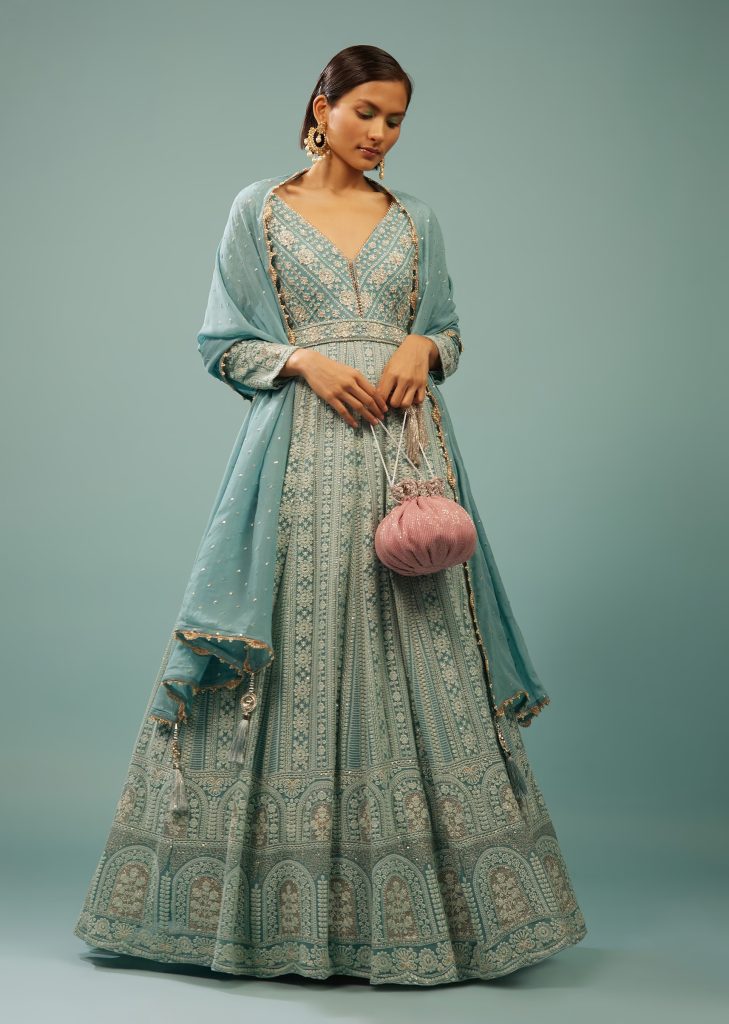 Popular Styles
Today, Anarkali dresses come in a variety of styles and patterns each with its distinct features that set them apart. Each Anarkali suit style has its unique characteristics. Known for its unique design and shape, the suit typically features a long & flowing top and a fitted bottom. It is often paired with a dupatta which adds an elegant touch to the overall appearance. To bring variations, Anarkali suits are also paired with jackets, capes, and shrugs. Some suits have front slits and some high slits. There are many more variations that add different contemporary look to these simple salwar suits.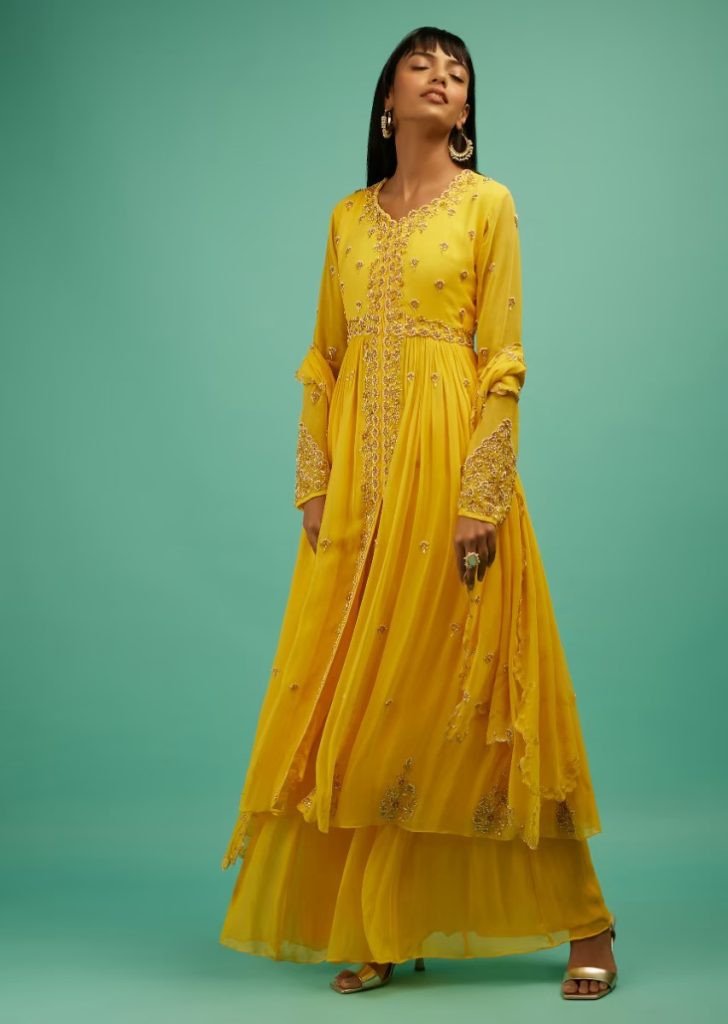 Floor-Length Anarkali- A long and flowing silhouette floor-length Anarkali suit is a traditional Indian ethnic wear consisting of a long kurti that touches the floor and is commonly paired with a churidar bottom. It's also called floor sweeping long Anarkali dress, perfect for royal wedding functions.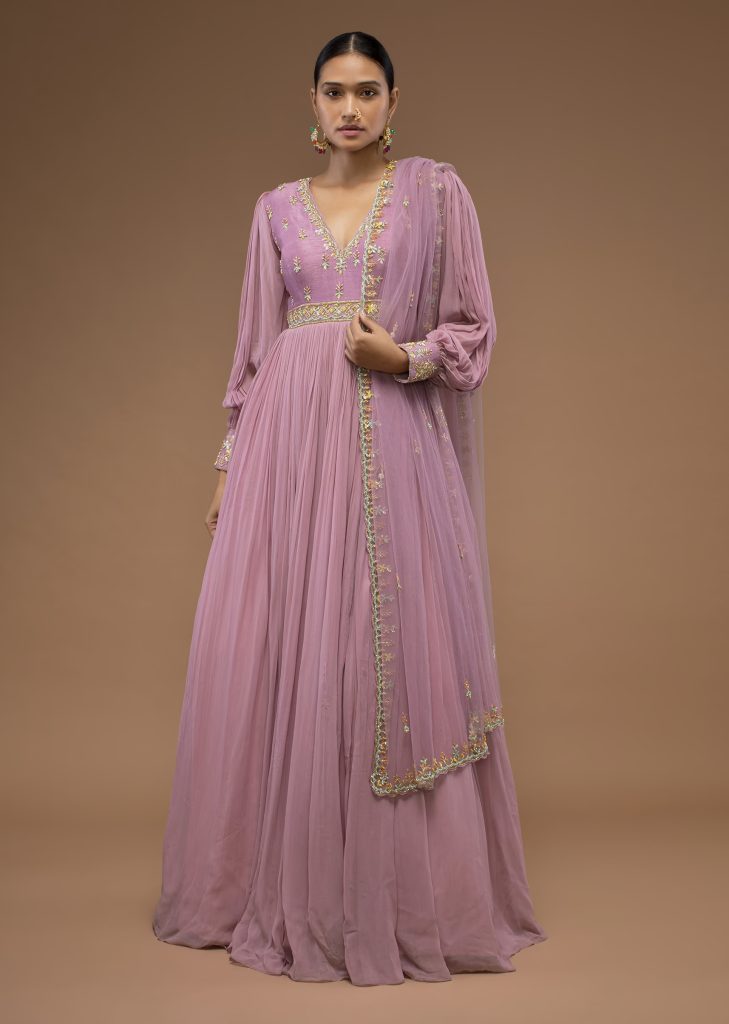 Jacket Style Anarkali- Layered with a jacket or cape-like layer over the dress gives a modern twist to the classic design. Be it a short or long jacket, or a heavily or lightly embroidered jacket, both add a unique and fashionable touch to the classic Anarkali design. This trend is especially loved by younger women.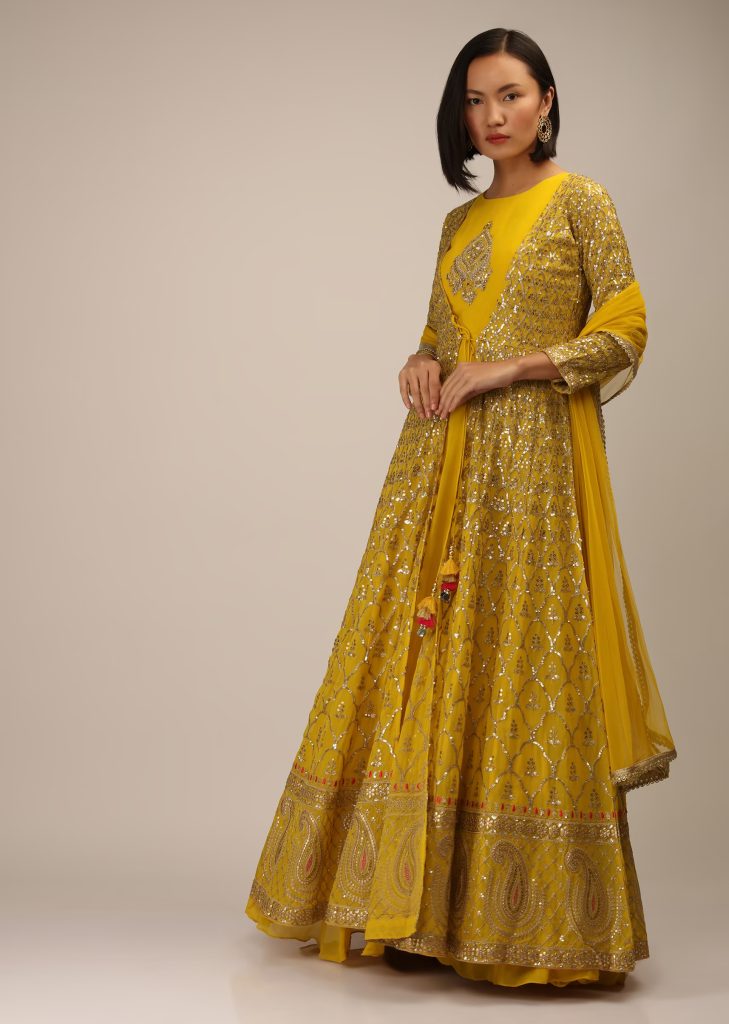 Angrakha Anarkali- Two classic Indian clothing styles are combined to create an angrakha-style Anarkali suit. The Anarkali stye dress merges the flare of the Anarkali with crisscrossed ties resembling the angrakha. Anarkali suits are characterised by luxurious fabrics, vibrant hues, and intricate embroidery.  The blend of these features results in an opulent Angarakha Anarkali outfit.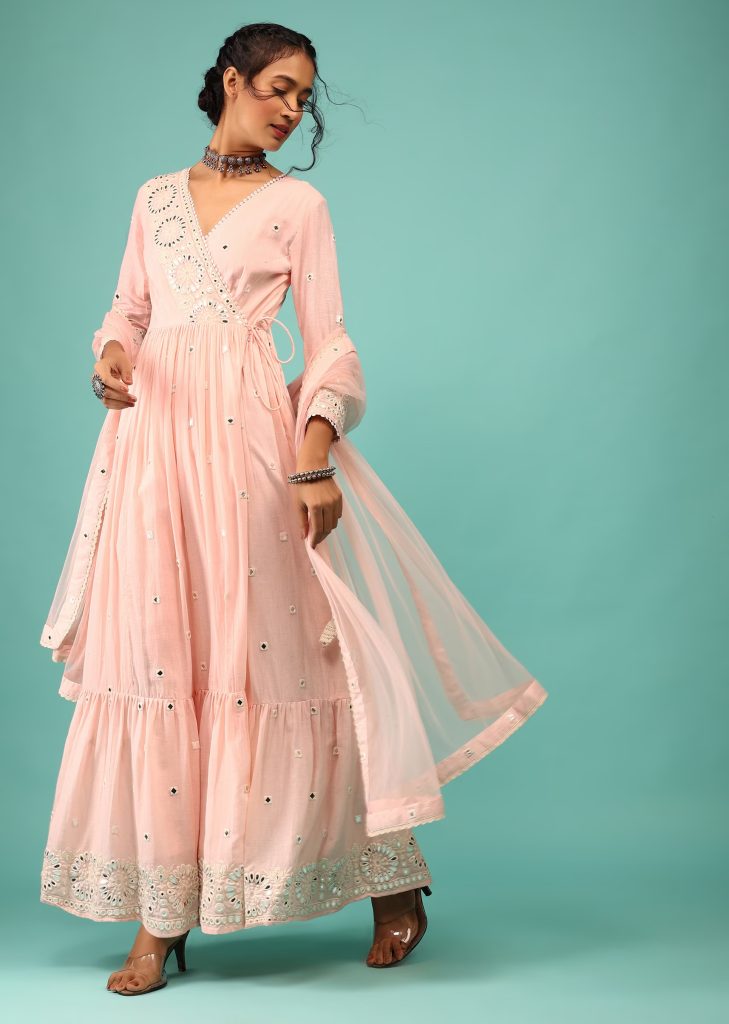 Asymmetric Anarkali- An asymmetrical Anarkali dress features hemlines with asymmetrical length with the front being shorter than the back. It can be sleeveless, have short sleeves, or long sleeves, and the neckline can vary from round to V-neck. The asymmetrical design adds an interesting and unique element to the dress.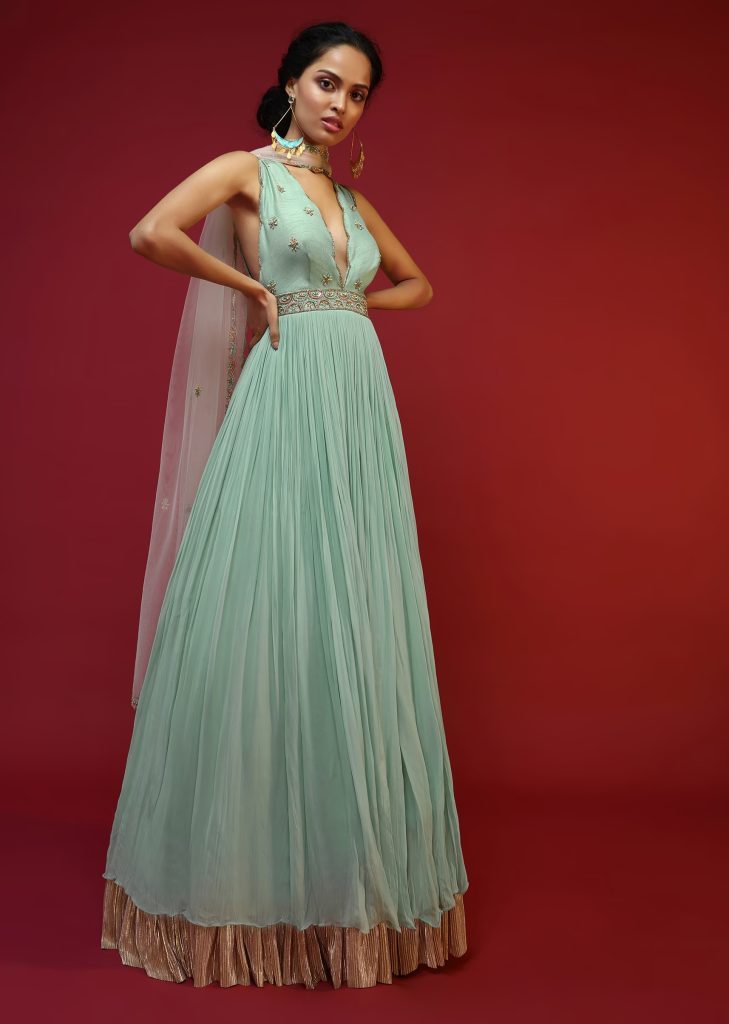 Every woman, including Bollywood actresses, social icons and leaders consider Anarkali suits as an essential part of their elegant and royal wardrobe. With a plethora of lovely Anarkali suit design ideas, you can effortlessly prepare for the upcoming wedding season. These versatile outfits from KALKI are not only easy to wear and comfortable but also suitable for any occasion,
With a wide range of designs catering to all body types and age groups, Anarkali suits have become an instant favorite among women. Don't miss this chance to add this timeless piece to your collection by shopping at Kalkifashion.com.